Your heart is the strongest muscle in your body and it does a phenomenal job 24/7 making sure that the whole body gets its blood supply. Besides eating properly, exercising regularly, it is also important to give it the necessary nutrients for its normal healthy functioning. By strengthening the heart with a daily intake of DHA & EPA, we can withstand and quickly recover from difficult situations, so that we can enjoy every single moment in life.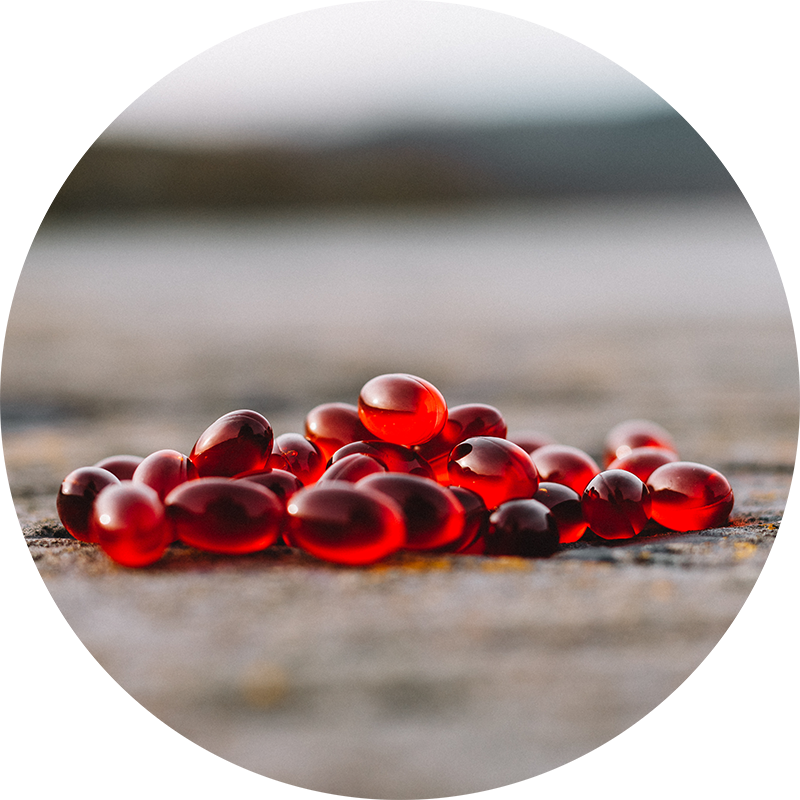 Superba Krill TA oil is well absorbable thanks to its omega-3 fatty acids which are attached to phospholipids. That's why it needs less quantity, as phospholipids make it much more effective and allow smaller capsules.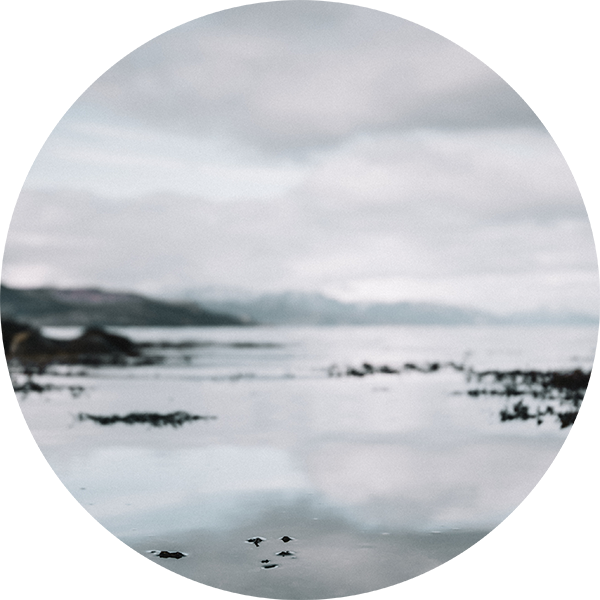 The krill oil we use in our OMEGA3 BOOST is coming from from the unpolluted oceans of Antarctica, so you don't need to worry about environmental toxins. The krill we use is fully traceable and sustainably harvested by using the EcoHarvesting™ method. Our suppliers are certified with the international MSC standard for responsibility.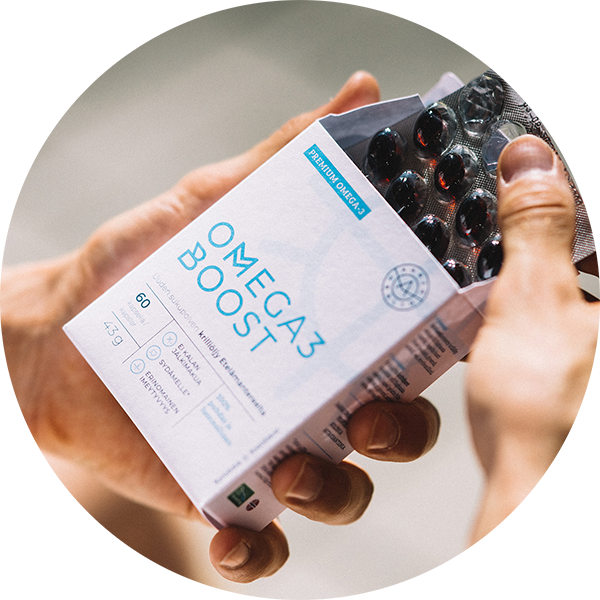 Unlike fish oil, phospholipid formed omega-3 fatty acids make krill oil blend easily with the stomach fluids - no more fishy burps!



GMO-FREE



100% PURE

& NATURAL



FREE FROM

GLUTEN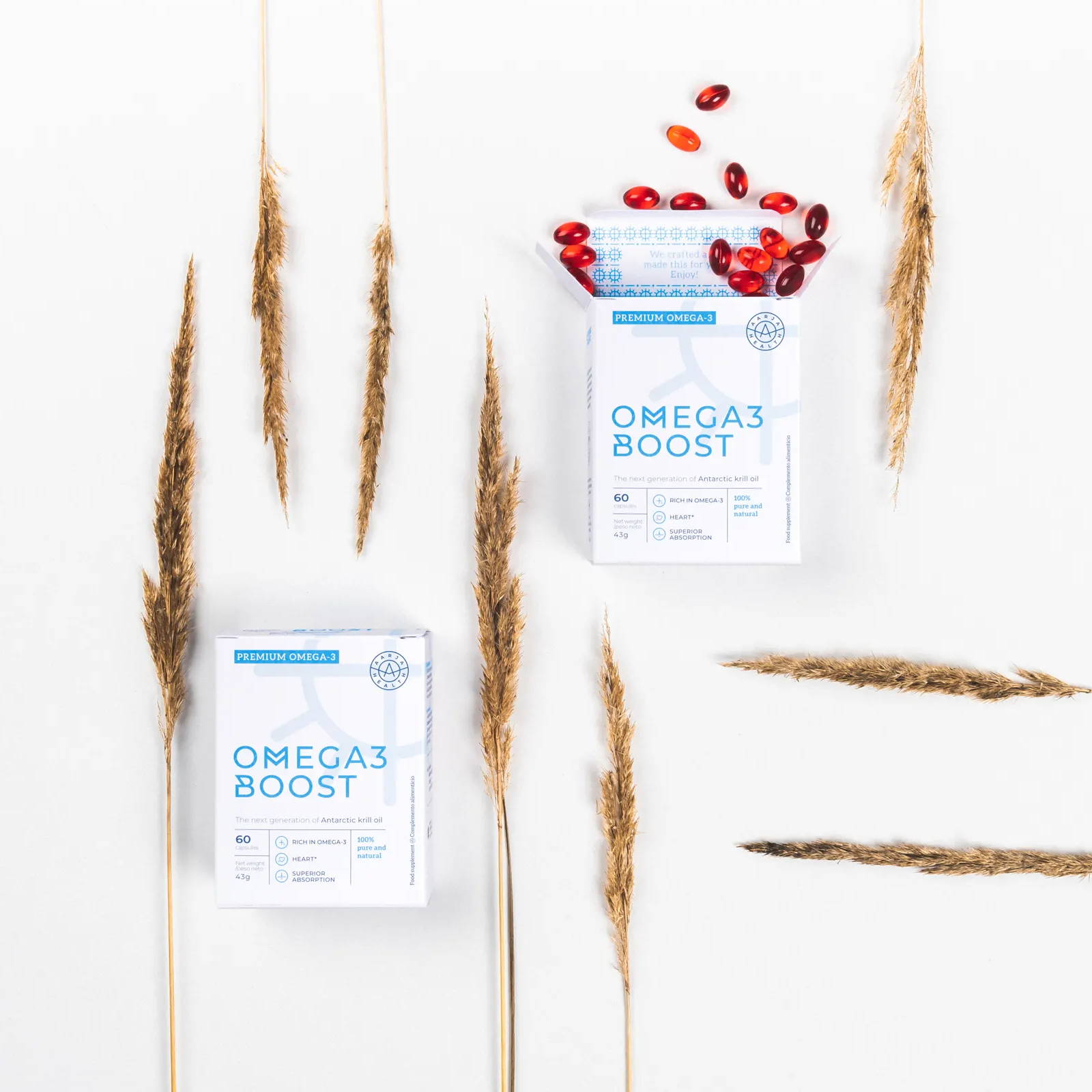 ---
We spend a lot of time to find the best raw materials for our products, because we want to be sure that they are pure, safe and well absorbed in your body. We avoid unnecessary additives and allergens. We choose krill oil over fish oil because we know that krill we use is sustainably harvested and free from mercury and other pollutants.
---
We only make products that we use ourselves and would give to our family. We make them ourselves to be 100% sure of their quality. Meet our Production Supervisor Samppa who is making sure that the raw material he is holding meets our high-quality standards. All our products are made with love by our professional staff in our own IFS certified factory in Finland.
inspired by
NORDIC WISDOM
---
Aarja is the Sami word for 'energy'. The Sami people of the Nordic countries have lived in harmony with nature for centuries, and depended upon it for food and medicine. The cold and harsh climate in the North creates plants with a unique strength and life force. We have listened to the wisdom of our ancestors and carefully chosen Nordic ingredients that will provide the best effects for your health and energy.
HOW MUCH this Product contains D3 in IU?

The amount of D3 is marked either in international units (IU) or in micrograms. 1 tablet of CALCIUM, D3 & K2 contains 50 micrograms of vitamin D3 which is equivalent to 2000 IU.
What does calcium do in the body?
How much calcium do you really need?
| | |
| --- | --- |
| Age | Requirements |
| | |
| | |
| | |
| | |
| | |
| Pregnant and breastfeeder | |