PARAS URHEILUJUOMA!
Toimii hyvin pidemmillä pyörälenkeillä nesteytyksenä! Hyvän makuista ja plussaa luonnollisuudesta ja suomalaisuudesta :)
PARAS URHEILUJUOMA!
Toimii hyvin pidemmillä pyörälenkeillä nesteytyksenä! Hyvän makuista ja plussaa luonnollisuudesta ja suomalaisuudesta :)
Our Premium ISOTONIC SPORTY BOOST® contains many essential minerals for optimal endurance performance: 11 000 mg of glucose, 1000 mg of BCAA 2:1:1, 760 mg of Sodium citrate, and wild sea buckthorn juice powder, magnesium and vitamin B2. 100% pure sports drink without any substance on WADA's Prohibited List.
One box contains 20 x 17,7 g sachets. Net weight: 354 g.
GIVES A BALANCED
HYDRATION
Good for bones & muscles
Magnesium is an important nutrient for a healthy body - it i.a. contributes to normal muscle function and maintenance of normal bones.


Optimal recovery
Isotonic SPORTY BOOST® Performance is crafted carefully to provide optimal energy & nutrients for active lifestyle. It combines carbohydrates (glucose), sodium, amino acids, minerals and vitamin B2 to give your body all it needs during sports & activities.


Good for energy-yielding metabolism
Magnesium contributes to normal energy-yielding metabolism.


Get energy & stay hydrated
Optimal carbohydrate electrolyte formulation of our isotonic sports drink compensates the fluids you lose during a performance and boosts your carbohydrate levels. It contains glucose, which gives you energy and sodium to help fluids and energy to absorb effectively.


Vitamin B2 is important for metabolic reactions


Group B vitamins like vitamin B2 are involved in metabolic reactions, which is important for endurance athletes. It also reduced fatigue and tiredness.




All claims are approved by EFSA (European Food Safety Authority).


Recommended daily dose: 1 sachet per day.
How to use: Mix 1/2 sachet in a glass of water, stir it with a teaspoon. Or use 1 sachet in a drinking bottle with water (500ml), and shake.
When should I take ISOTONIC Sporty Boost? Drink during your training to support your performance and hydration. Can be drunk before an intense and long workout to gain optimal hydration and energy.
Ingredients: Glucose, acid (citric acid), BCAA 2:1:1, magnesium citrate, tri-sodium citrate, microencapsulated sea buckthorn juice powder (Hippophae rhamnoides) (sea buckthorn juice solids, maltodextrin), sodium chloride, potassium chloride, lemon flavour, calcium carbonate, sweetener (steviol glycosides from stevia), riboflavin (vitamin B2).
| | |
| --- | --- |
| Recommended daily dose contains: | 1 sachet |
| | |
| | |
| | |
| Seabuckthorn juice powder | |
| | |
| | |
| | |
| | |
| | |
**NRV: nutrient reference value not defined.
*% of nutrient reference value
Food supplement should not be used as a substitute for a balanced and varied diet and a healthy lifestyle. The recommended daily dose should not be exceeded. The product must be kept out of reach of children. Store in original package at room temperature in a dry place.
Quality means doing the right things when no one is watching. Quality is our habit and a way to show that we care. We produce VITAMIN C 500 in our own FSSC 22000 certified factory in Finland, Seinäjoki. All products are made by us with 40 years of experience and pure love towards high-quality supplements. All our raw materials are carefully selected and our product design is based on science and studies. We analyze the quality of our products throughout the manufacturing process, from the moment we receive the raw materials to the moment the products are ready to be delivered to you.
Want to know more about Aarja's quality assurance? Click here.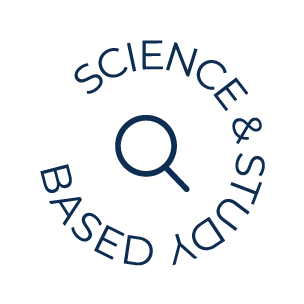 "I'm training 2-4 hours every day, and I focus very hard on triathlon. After I started using Aarja Health® products I noticed a big difference. During a tough 3-4 hours bike session with high wattage, I no longer become empty or tired, like I used to. I am stronger on the bike, and I manage to push more when I use Isotonic SPORTY BOOST® Performance Performance during the session. I always use SPORTY BOOST® Recovery after training, which makes me recover faster."
GUNHILD BERNTSEN, triathlete
NORWAY 2020
"I can feel that the purity of the products improves absorption. I have a bit problematic muscles as they cramp easily. I usually sweat a lot, and Aarja's Isotonic SPORTY BOOST® Performance has been an important training buddy in summer. This seems to absorb well!"
JAAKKO HAUTAMÄKI, Speed Skater,
Finnish National Team
FINLAND 2020
Boost for your top performance - we wanted to create a highly efficient and natural sports drink for endurance sports and top performance. Absorbable isotonic sports drink powder with wild Nordic sea buckthorn and lemon boosts effectively your hydration and energy levels during your daily exercise and intensive training. We have listened to the wisdom of our ancestors and added wild Nordic sea buckthorn because of its high level of natural vitamin C.
Branched Chain Amino Acids are a naturally occurring group of amino acids found naturally in protein-rich foods but also commonly used as a nutritional supplement among the athletes. BCAA is considered to be an essential amino acid. 2:1:1 is the most proven ratio of BCAA's found affecting positively on performance, muscle recovery, and reducing the risk of muscle loss during the calorie deficit.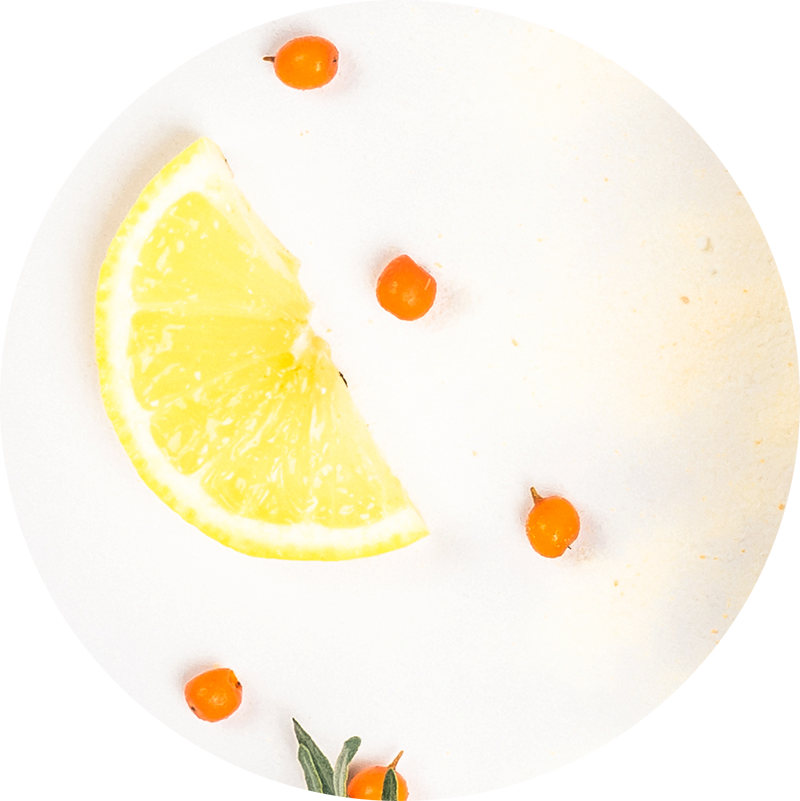 Sea buckthorn (Hippophae rhamnoides) grows wild at higher altitudes of Asia and Europe. Since ancient times, sea buckthorn has been known for its immense nutraceutical and ecological value. Sea buckthorn berries are a rich source of phytochemicals like vitamins (especially vitamin C and E), flavonoids, carotenoids, amino acids, organic acids, fatty acids, and mineral elements.




FREE FROM
GMO



100% PURE

& VEGAN



FREE FROM

GLUTEN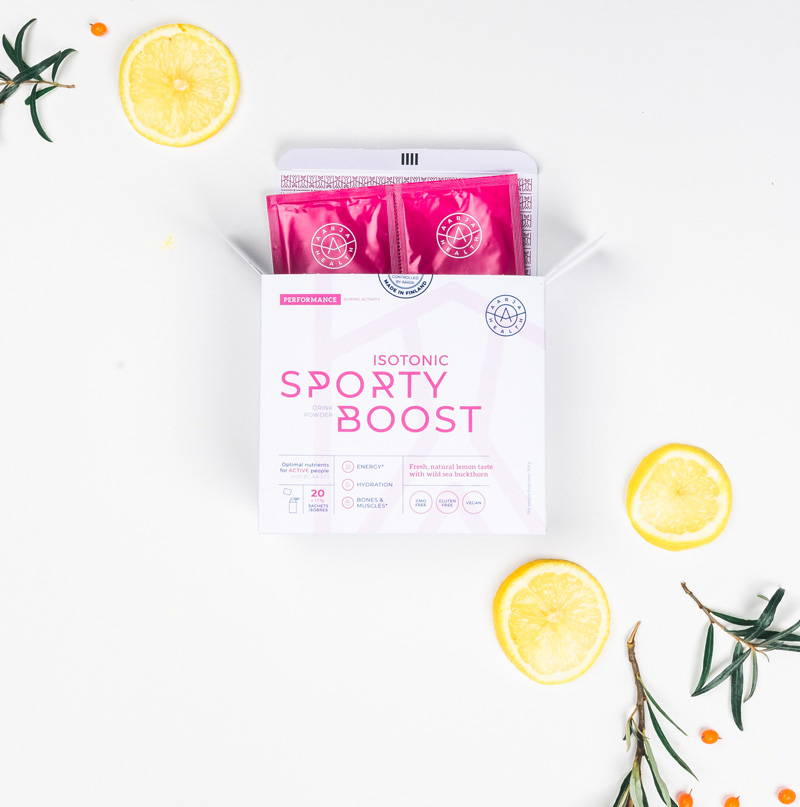 ---
We spend a lot of time finding the best raw materials for our products because we want to be sure that they are pure, safe, and well absorbed in your body. We avoid unnecessary additives and allergens. Our SPORTY BOOST drinks get their taste and color from natural wild Nordic berries – and they are suitable for everyone!
---
We only make products that we use ourselves and would give to our family. We make them ourselves to be 100% sure of their quality. Meet our Production Supervisor Samppa who is making sure that the raw material he is holding meets our high-quality standards. Our ISOTONIC SPORTY BOOST®, like all Aarja's products, is made with love by our professional and experienced staff in our own factory in Finland.
inspired by
NORDIC WISDOM
---
Our roots are far up north in the land of wild nature, where our Sami forefathers have lived in harmony with nature - and depended upon it for food and medicine. The cold climate gives the plants a unique strength and life force. We have listened to this wisdom and carefully chosen Nordic ingredients in our supplements which will give the best effect for your health and energy. Good health is easy as nature has all the answers for holistic wellbeing.
---
DOES THIS CONTAIN COFFEINE?

Our Isotonic Sporty Boost Performance does not contain caffeine.
HOW MUCH ENERGY IS IN ONE SACHET?

1 sachets (17.7g) contains 54 kcal (226 kJ).

Isotonic drink means that it has the same osmotic strength than e.g. in sports drinks case our body fluids so the cell does not shrink or swell. In sports drinks, isotonic is rapidly absorbed due to the same osmotic pressure. For example, if a sports drink mixture is sweeter or saltier, then the body tends to dilute it first with its liquid, which may cause drying.